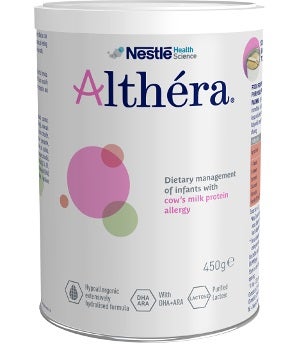 Althéra is an extensively hydrolyzed, hypoallergenic formula that provides first-line relief from the symptoms associated with cow's milk protein allergy, i.e., eczema, colic, vomiting, diarrhea, constipation. Althéra, which contains lactose, is also nutritionally complete and designed to be close in composition to human breast milk and standard infant formula, allowing for normal growth and development. Suitable from birth onwards, Althéra's taste and palatability make it easier to use for the long-term management of cow's milk protein allergy.

Always discuss with a healthcare professional before making any changes to your child's diet.
---
---
THE NESTLÉ HEALTH SCIENCE RANGE OF TAILOR-MADE NUTRITIONAL SOLUTIONS
Althéra, Alfaré and Alfamino. A specially designed range of nutritional solutions developed to help meet the needs of babies and children with food allergies and intolerances.